How Cornell influenced me in charting the course at Somaiya
Dear friends,
Last month I was invited to speak at the South Asia Programme at Cornell. I was asked to speak on, how my student days at Cornell (and elsewhere), have influenced the work we do at the Somaiya institutions.
I thought deeply about that, and thought, that the best way to communicate that was visually. I realise that the images are not showing in this email, I will send a link to an uploaded presentation later today.
I explained to them, that I just applied to Cornell, since my friend was, and I gave the exams and made the applications to 'give him company'. When I did get admission, I was very keen to go, and asked for permission. My mom was ok, father was not, but if grandfather (K. J. Somaiya) allowed, I could go.
He said, why not Somaiya. I said, no Chemical Engineering here, and Cornell is far better than Somaiya. He did not mind that. But said, 'Go, but promise me, that when you return, in your lifetime, you will try to make our institutions to good, that if a candidate applies to Cornell, he/she will also apply to Somaiya'. And he allowed me to fly.
He traded dreams. Made my dreams his, and his mine. How powerful!!
Below is a picture of my grandparents when they came for my Masters Graduation. K. J. Somaiya is 90 years old.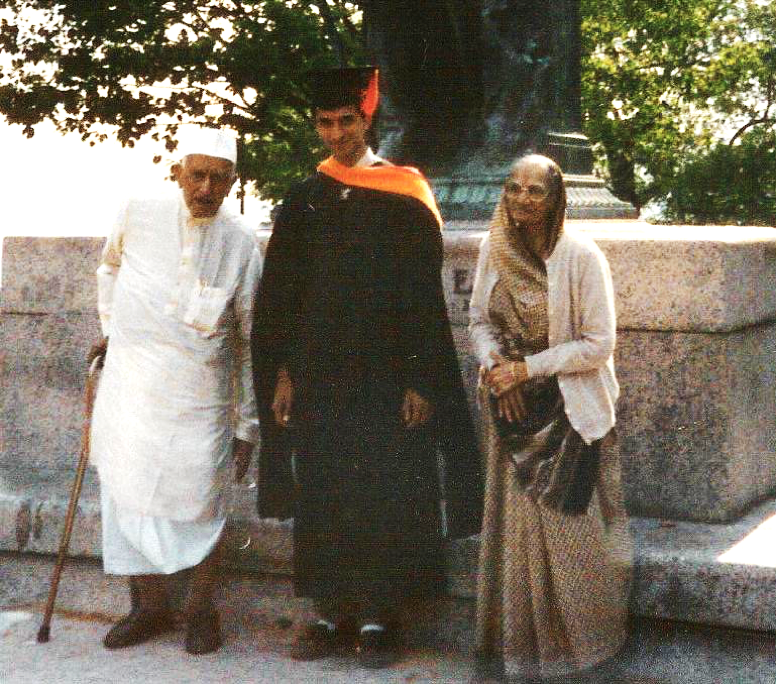 When he came, he saw our sports field at Cornell. He said, why can we not have such a field on our campus. And he planned it. However, he could not see it built. So, the first thing I did, when I took charge, is that I built a 400 m running track in 2011.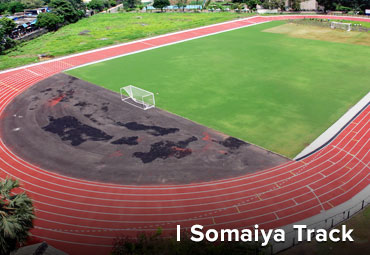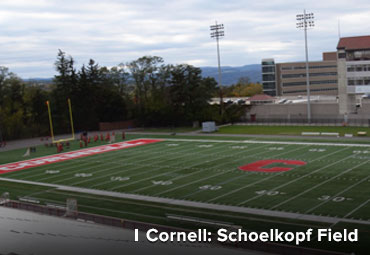 I had learnt from him to observe, and if you see something that is good, ten quickly adopt it. But do not be blind. Take what is good, and leave behind what is not. And that, in everything, there is a good and a bad.
Many years ago, while walking near the University of Geneva, in Switzerland, I had seen a giant Chess Board, and so: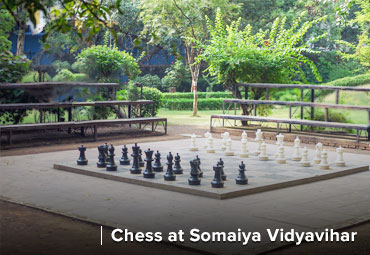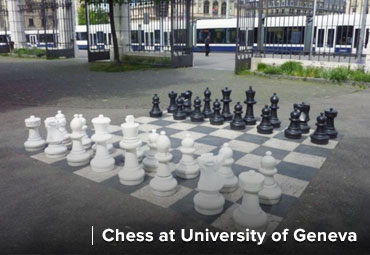 In fact, when I attended Cornell, the first thing I noticed, was that there were gardens everywhere, and that the landscape was very inviting. On our campuses, we had buildings, but the space between buildings was unattended. So, I thought of creating gardens, and green spaces. And areas for sports. At the Vidyavihar campus, we have done a lot, at the Ayurvihar campus, we still have a lot to do.
The picture below shows the founder's garden just before, and after completion. What I am not showing, and did not show at Cornell, that many years ago, there was too much litter on our campus. I am so proud, that we take pride in our campus spaces, and feel quite terrible, when I see people throwing trash.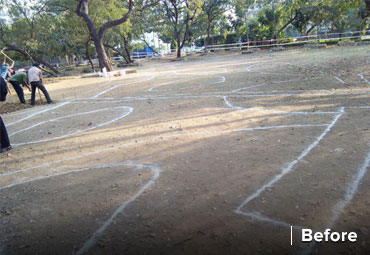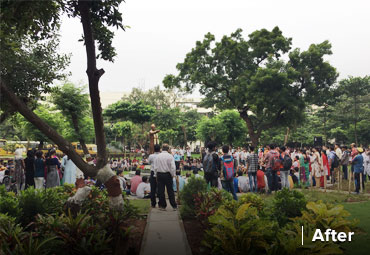 I also saw lovely sculptures on the campus at Cornell, and thought that we should have them too. For example, they had a nice statue of their founder. But high up. I thought that we should have one too. But not so high. Shri K. J. Somaiya had written in his notes:
કોઈને ઉપયોગી થવાની તક ન ખોવી
Do not lose an opportunity to be useful to others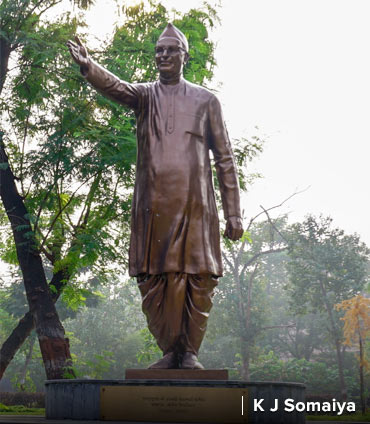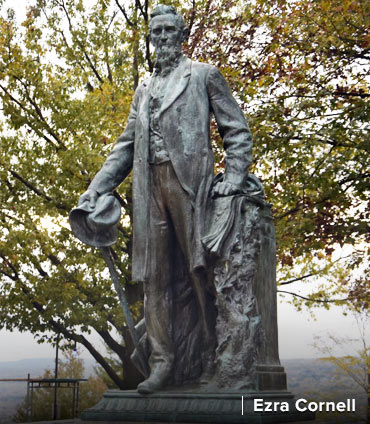 Similarly, I put a statue of my father, that was so wonderfully unveiled by His Holiness The Dalai Lama in early 2017. In fact, when I met him after my father's death, he pointed to me and said 'you look like your father, your father was my friend'. I felt blessed. My father. Dr. Shantilal Somaiya did much to establish communication with various religions, at the highest level.
Similarly, I had never stayed in a hostel. And lived at Cornell housing for 3 years. They had nice buildings and nice gardens outside.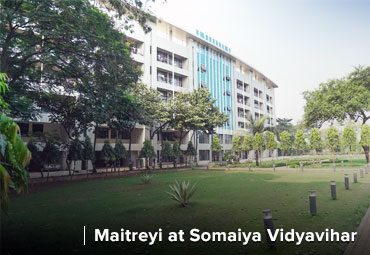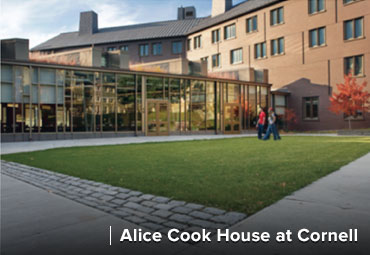 Well, I think our Maitreyi looks better than Alice Cook house - What do you think?
There were also other changes to make. As late as 2010, we did not have common ID cards. Each institution had their own. There was no common campus identity. In fact, students were discouraged from going to other parts of the campus (canteens, etc). At Cornell, I noticed a common campus identity, and thought that we must also have one.
When I studied at Harvard, I really liked their bookstore - the Harvard Coop. So, Amrita and I, decided to build one like that in Mumbai too. So, if you have not visited Kitabkhana, you are welcome to visit (it is at Fountain). I think books are necessary. We have become to used to reading 3 minutes (or less) at a time. Books are windows to a different world. They need our time, we need to get lost inside them. Kitabkhana is a place to lose oneself. दिल ढूँढता है, फिर वही फुर्सत के रात दिन......(movie मौसम - शायर - गुलज़ार)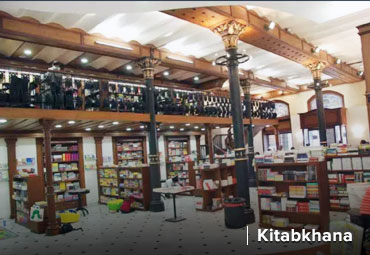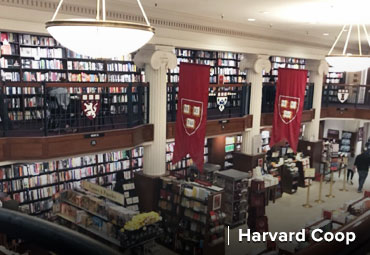 The academic environment was also very refreshing at Cornell. I also teach there. I can decide my curriculum, readings, method of evaluation etc. I realised, that here, we had to teach what the University told us. That had to change, and that is why we applied for autonomy, and got that in many institutions. If one has to grow, then one has to learn to think for oneself, decide what is worth learning, how much, and what is ok to leave behind.
We have started a Master's in Polymer Science, a Master's in Healthcare management, and are planning a host of other initiatives. Within courses, and in new programmes.
Cornell also had many project groups. I still remember, speaking to the students after having received a copy of the Cornell magazine, describing how Cornell had won the Formula racing competition. And I wondered, that are these competitions only for Universities such as Cornell. Can we not compete, I challenged our students. And now, we have so many groups.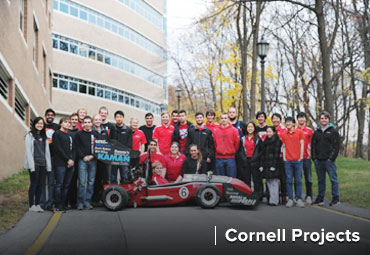 Recently at the MIT Media lab (where I also took some courses), I saw that the walls of the classrooms were made of glass. So, we have also created glass walls at the extension building of the K J Somaiya Institute of Engineering and Information Technology.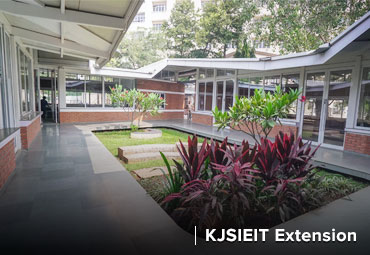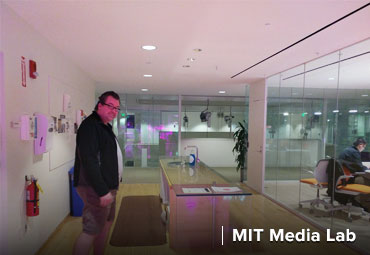 In fact, our incubator space riidl, was also inspired by a similar visit at the MIT Media lab.
While visiting Cornell Tech, the recent New York City campus of Cornell University (that was gifted to Cornell by New York City - and that speaks volumes for a City's commitment to higher education, given how much we need to struggle), I saw that they had started a startup studio. I suggested that to riidl, and we created a similar programme here as well.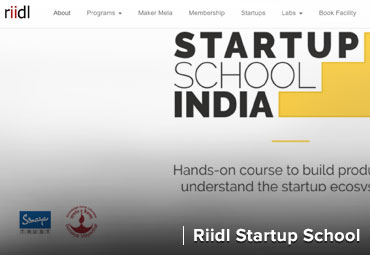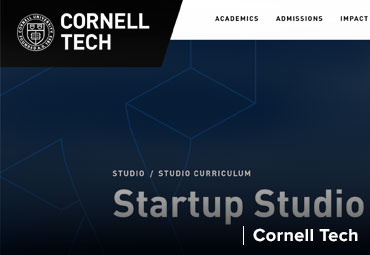 And then to take students from one campus to another (their medical campus is a four and a half hour drive from the parent campus - ours is a twenty minute drive), they have a bus that continuously moves between them. That helped create joint and interdisciplinary projects.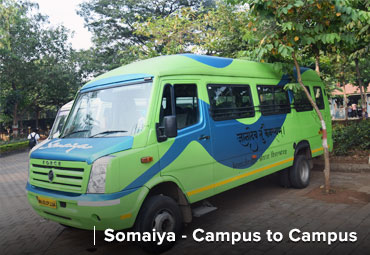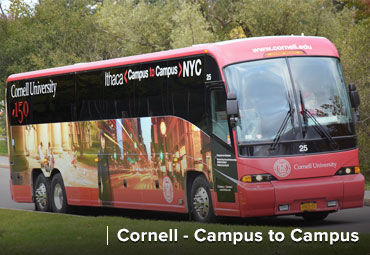 In medicine, the challenge has been to create an institution that provides great care to all. In India, poor go to teaching hospitals, and those who can afford it, to expensive ones. In the USA, everyone prefers to go to a teaching hospital. I wanted to make ours like that. And so we added a super specialty wing to our hospital, to improve the overall hospital.
My father passed away in Australia, in a teaching hospital, where he was taken after he slipped and fell, and hurt his head. Though he did not survive, I thought we should have a similar emergency room in our hospital.
K J Somaiya Medical College & also the Hospital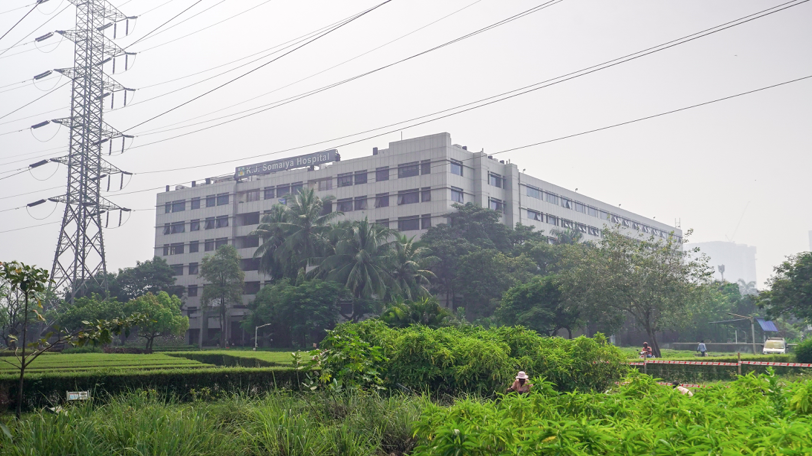 But we are also different in many ways. We do work in adult education, in under privileged areas. We have built a gorgeous centre at Jetavan, in Sakarwadi. This initiative by the K J Somaiya Centre for Buddhist Studies was built using quarry dust, fly ash, jute, cow dung, and old style casting techniques from Kutch.
जेतवन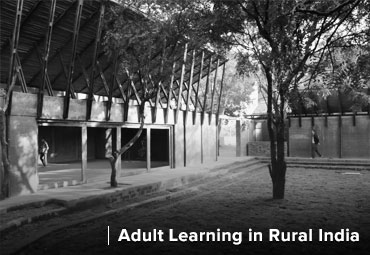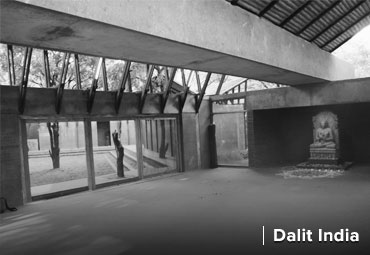 We recently inaugurated the Maya Somaiya library (named after my mother), that was 'Highly Commended' by the magazine Architecture Review (only one of three such this year), and was covered in the international magazine Domus.
Maya Somaiya Library at the Sharda School in Kopargaon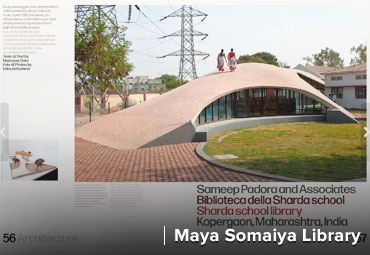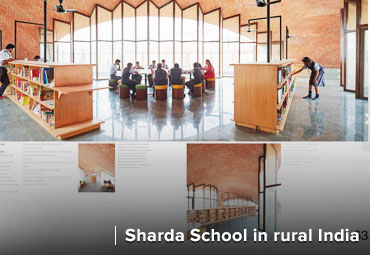 We also do work at Nareshwadi - to work in health, education, and livelihood of the tribal community. And we have a 100 student बालकाश्रम. We also teach artisans in Kutch business management, and principles of design. Their convocation is the best I have ever seen, with graduates walking down the ramp in a fashion show, in a village with more than 6000 in the audience. And the audience is full of friends and family.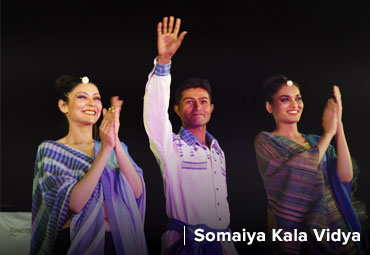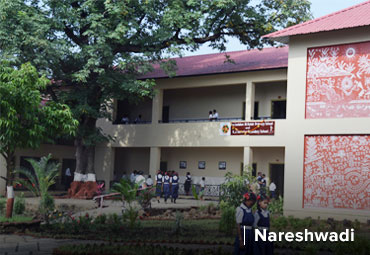 We are a rare institution, where the K J Somaiya Vidyapeeth conducts its entire curriculum in Sanskrit, run by the Rashtriya Sanskrit Sansthan.
But this is only the beginning. In the future, we want to build a school of Indian music and dance, of the arts, painting, drama. We want to build a museum. We want to build more science laboratories, more health care facilities, more sports facilities. More places to live, learn, and live some more.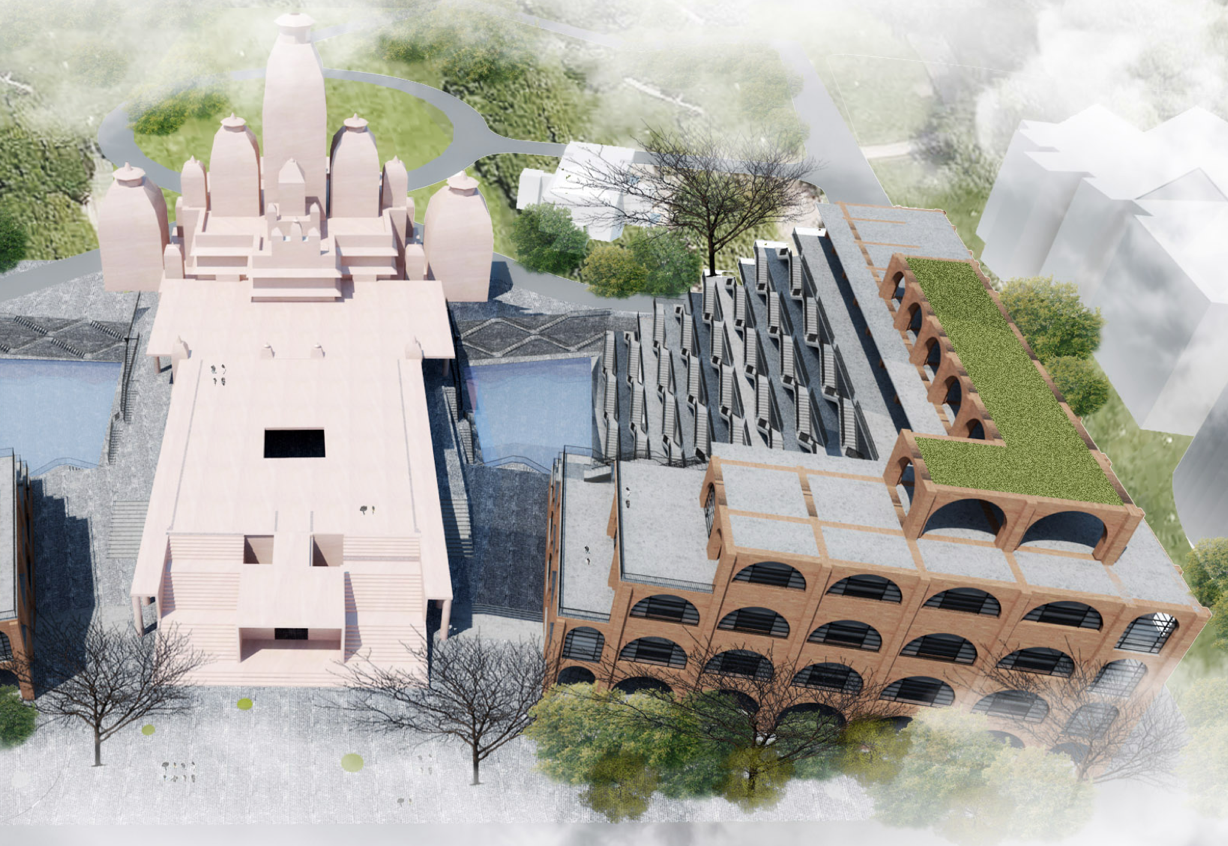 It is only possible to do because of what they founded, dreamt, and built.
I made a promise to my grandfather. In the words of the poet Robert Frost: "I have promises to keep. And miles to go before I sleep."
It will take time, but many of you are walking with me in making that dream a reality. From the housekeeping staff who cleans the campus, the student who imagines a lander on a Jovian moon, the doctor working in Pratikshanagar, the teacher preparing his/her lecture notes and thousands of you, we are all in this together.
Please continue walking with me in fulfilling that promise. In the words of Kaifi Azmi: उठ मेरी जान, मेरे साथ ही चलना है तुझे
See More
Writings
See all Writings